KORG Legacy Collection 64-bit Compatibility!
March 5th, 2013
We are pleased to announce that KORG Legacy Collection series is now available in 64-bit! KORG's Legacy Collection series, made up of legendary KORG synthesizers including MS-20, Polysix, Mono/Poly, WAVESTATION and M1, as well as MDE-X effects processor and LegacyCell will now work on the latest 64-bit DAWs.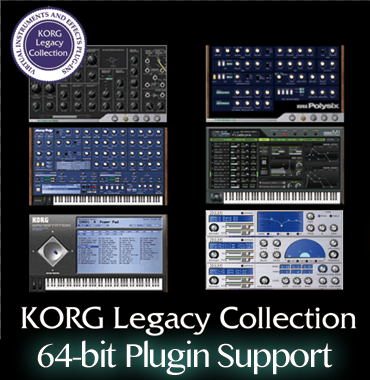 This update is available to registered users as a free download.
Log into KORG USER NET via the right column, and click [Download for registered users].
Note: For KLC-1 v1.0-1.1 owners, you must have previously purchased and registered "v1.2 Upgrade" for access to this update.
Here are the details of the update:
Note that minimum system requirements have been changed to add support for 64-bit functionality. Please do not update your software if you do not meet these minimum requirements.
Mac
Native 64-bit Audio Units and VST plug-ins are now supported.
Mac OS X 10.8 Mountain Lion is now supported.
This update requires Mac OS X 10.6 (or later). Power PC and Mac OS X 10.5 (or earlier) are no longer supported. For additional details on the system requirements, please visit the product page.
Windows
Native 64-bit VST plug-in is now supported on Windows 7 or later.
Windows 8 is now supported.
System requirements have been changed. For full details on the system requirements, please visit the product page.
If you don't have the KORG Legacy Collection, we hope you consider taking this opportunity to purchase it! It's available via our shop, "KORG USER NET SHOP".