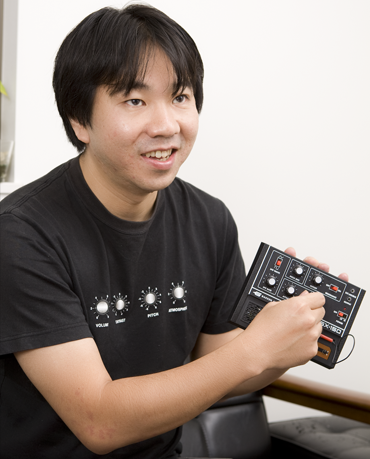 polymoog
What I can say about Korg synthesizers is that they are always near perfection as musical instruments. The vintage sounds of Korg's analog synthesizers are delicate and graceful; created with the same attention to detail that quality Japanese electronic products are known for.
With the Mono/Poly, many people really enjoy the massive sound that comes from the 4 oscillators. However, I think that the sound-making potential lies within the ease of use of the various parameters; which I think is the best part.
Ease of operation is just as important for judging the quality level of a musical instrument as its sounds are. Korg's synthesizers continue to provide intuitive operations. I think that all of the functions of the Mono/Poly are conducive to musical productivity.
The POLY800 is the descendant of the Mono/Poly. It was the first ever polyphonic synthesizer. My all-time favorite was the DSS-1. Common points between these synths are that they're all musical instruments that can provide sounds that are complex and tricky to simple yet delicate.
I want everyone to feel the same attraction that I've always felt for Korg Synthesizers and hopefully they can with my bank of sounds for the Korg Legacy Collection Mono/Poly.
polymoog profile:
polymoog is member of ELEKTEL and CTO lab., is composer, arranger, remixer, dj, writer, editor and more…
Related Link
http://www.shinomiya.ne.jp/polymoog/ (Japanese)

Date : October 5, 2010
---